May 21, 2009
Filed under:
circuit bending
— noam @ 11:03 pm
A while ago I sold a Rx Punk on ebay. When I went to ship it, I noticed the name was Adam Horovitz, which rung a bell as he is in the Beastie Boys.
I asked him if he was adrock… He said "yes, can you turn this football game into a drum machine?"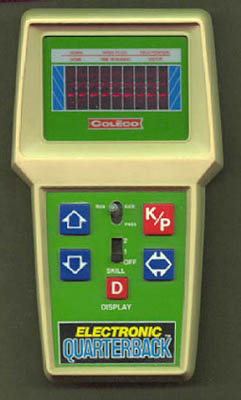 I wasn't going to say no. so i said yes.  I had the idea to take the guts from one of those cool circle shaped lo-fi drum toys (i happened to have one half torn apart in the attic).
Both have 5 buttons, so that was a nice start.  Unfortunately the old buttons on the football game were unreliable and hard to mesh with the drum toy circuit. I had to build a small bank of buttons and then fit them behind the original ones.  All in all it was a lot of shaping the elements to fit together inside the football game, rather than comlicated circuit work.
Added a 1/8″ line out, and an extreme pitch knob that tends to glitch at either end of the spectrum. The body contact adds a sizzly sound…delicious.  The run switch powers the unit on.
Comments (0)
---
---
May 16, 2009
Filed under:
circuit bending
— noam @ 10:43 am
Comments (0)
---
---
May 8, 2009
Filed under:
attic music
,
circuit bending
— noam @ 11:45 pm
On the table:
Yamaha rx-17 drum machine with 27 point copper nail patch bay (with flashing lights!)
Vtech Little Talking Scholar bring played through…. Bent "White Owl" Ibanez tube screamer
Korg Kaossilator
bent Zenith transistor radio
The radio gets all kinds off cool interference from the other boxes.
Tuning it, moving it, or touching the body contacts affects the sound.
Comments (0)
---
---
May 6, 2009
Filed under:
circuit bending
— noam @ 11:29 am
Some strange noises from a cool old radio.  Just add a couple of body contacts and away we go…
Comments (0)
---
---
February 3, 2009
Filed under:
circuit bending
— noam @ 11:23 pm
I took a busted old tube screamer and rehoused it in this cigar box.  I added a few pots and a photo-theremin.  Now it produces a variety of distortin', ring modulatin', filterin', tone-oscillatin', and sound crunchin'.  It also acts as a rich, squealing stand alone synth box. The photo theremin controls the pitch depending on the brightness of the light.
Here it is running over an SK-1:
And here it is emitting sound on its own (with some Fab Echo D-Lay and a little SK-1 background):
Comments (3)
---
---
January 30, 2009
Filed under:
circuit bending
— noam @ 1:09 am
This is an Atari Punk Console run through a circuit bent Danelectro Fab Echo as delay.
These simple synths are so much fun. I gave this one a very wide range, a three color blinking LED that changes color/brightness depending on the sound, and put it in a prescription bottle.
Here it is with my SK-1:

I'm gonna put this up on ebay if anyone is interested.
Comments (0)
---
---
January 10, 2009
Filed under:
circuit bending
— noam @ 9:44 am
In addition to the data line cut, I've added 12 more traditional point to point bends.  These do a wide variety of modulations, variations, and crazy sonic garbling.
Yamaha was nice enough to number all the chips. Here are my notes on the point to point bends:
Thats from the inside of the keyboard.  The same colored points are connected together.
The data lines to cut are IC2, pins 10,11, 13-18.
With all 20 switches to play with you can have a lot of fun.

Comments (1)
---
---
January 7, 2009
Filed under:
circuit bending
— noam @ 9:04 pm
Ben wanted me to bend him a keyboard to make weird sounds for him to use in new songs.  I had bent a PSR-11 before and he dug that, so he got me one of those to play with.  However, tired of the same old same old, I decided to try a new type of bend, a data line cut. Usually in circuit bending, you add a connection where there isn't supposed to be one.  This kind of bend does the opposite, interrupting a connection that is usually there.
See, certain Yamahas have a FM chip that produces the sounds.  There are data lines that run from the main chip to the FM chip to tell it what to do.  You press "flute" and it sends it the code to produce a flute sound.  If you put a switch on these lines, you can cut the data transfer.  This can tweak out the preset sounds and rhythms or even blend multiple sounds.  Pretty cool. There are still some more "classic" bends I want to put in here, but these 8 switches are fairly infinite in their ability to confound the senses.
The 8 data line switches:
This came out awesome!! I will be cutting many data lines as soon as humanly possible.
The Danelectro Fab Echo is a really cheap slapback pedal.  I learned online that the chip inside is actually a fully functional delay chip, but Danelectro puts shackles on it to sell a low-grade pedal.  If you circumvent their obstacles, you can get a really great delay pedal for under $20!
It's been a fun week.
Here's the PSR-11 without the delay:

And some with both:

Comments (2)
---
---
December 29, 2008
Filed under:
circuit bending
— noam @ 12:38 pm
I am bending a casiotone mt-100 for graham from tokyo police club. Here it is with my original unpainted mt-100:

I told him I would paint it up cool. I've never really taken apart and painted a keyboard before. Very complicated. All the keys were done separately. Putting it back together was a huge pain.
BUT it sure looks rad!
I used a label maker to do the controls. The white labels all but disappear on the white keyboard.
Comments (3)
---
---
December 22, 2008
Filed under:
attic music
,
circuit bending
— noam @ 9:39 am
My ever lovin' wife got me a safari flashlight from cracker barrel for jewish christmas. What a woman!
It makes a variety of jungle noises and promptly got bent.
I also recently acquired an old italian keyboard by bontempi, which was packed by a moron and arrived broken from ebay (thanks for nothing, Dean Sancho!). Anyways I popped it open and think I can fix it up. Also from ebay a barbie karaoke which is basically a gritty little amp with built in delay - also not bent yet.
Some fun in the attic last night, despite the cold. . . .
Comments (0)
---
---
Next Page »